A deep pore cleanser with decongestant and anti-irritation activity. A Smooth whipped soufflé consistency without Stripping the skin of its natural lubrication.  Removes surface dead cell build-up, impurities and pore blockage. Promotes anti-bacterial activity. Helps to promote clear and smooth complexion. Can be used as a luxurious facial shaving cream. Camphor, Clove Oil and five Herbal extracts help to cleanse and rejuvenate oily and blemished skin.
Bio-Drying Lotion is an excellent skin care treatment for blemished skin. It helps to dry up blemishes, reduce tissue redness, irritation and helps to prevent growth of the blemish. Recommended to use together with Camphor Soufflé, Camphor Astringent or Blemish Control Astringent. Shake well; apply only to the blemish (with a cotton swab) several times a day as needed.
Skin Blemishes in Adults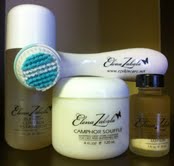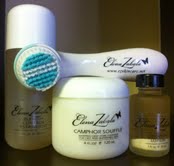 Skin blemishes are a nuisance of adolescence but for some people it occurs in adult life as well. It is an undesired reminder of the embarrassment and self-consciousness of teenage acne. Anyone can develop adult skin blemishes; however, some people are predisposed to certain types of acne. Scientific studies have confirmed that consuming bad foods do not cause skin blemishes; however, just as the proper nutrients are needed for optimal function of organs, the skin is the largest organ in the body: Implementing a healthy diet can reflect in a person's appearance.